Expand↓
Alternative Names:
TUBB3, CDCBM, Beta III Tubulin, Class III beta-tubulin, TUBB4, Tubulin, beta 3, Tubulin beta-III, Tubulin beta-3 chain, Tubulin beta-4 chain, Tubulin, beta 3 class III, CFEOM3A
Applications:
WB 1:1000-1:5000 , IHC 1:50-1:200, IF/ICC 1:100-1:500, ELISA(peptide) 1:20000-1:40000
Source:
Rabbit
Reactivity:
Human,Mouse,Rat
Clonality:
Polyclonal
Concentration:
1mg/ml
Molecular Weight:
Observed: 55kDa. Predicted: 50kDa.
Purification:
The antiserum was purified by peptide affinity chromatography using SulfoLink™ Coupling Resin (Thermo Fisher Scientific).
Specificity:
Tubulin beta Antibody detects endogenous levels of total Tubulin beta.
Immunogen:
A synthesized peptide derived from human Tubulin beta.
Uniprot:
Gene id:
Research Fields:
· Cellular Processes > Transport and catabolism > Phagosome.(View pathway)
· Cellular Processes > Cellular community - eukaryotes > Gap junction.(View pathway)
· Human Diseases > Infectious diseases: Bacterial > Pathogenic Escherichia coli infection.

Description:
TUBB3 Tubulin is the major constituent of microtubules. It binds two moles of GTP, one at an exchangeable site on the beta chain and one at a non-exchangeable site on the alpha-chain. TUBB3 plays a critical role in proper axon guidance and mantainance.
Function:
Tubulin is the major constituent of microtubules. It binds two moles of GTP, one at an exchangeable site on the beta chain and one at a non-exchangeable site on the alpha chain.
Subcellular Location:
Cytoplasm > cytoskeleton.
Post-translational Modifications:
Some glutamate residues at the C-terminus are polyglutamylated, resulting in polyglutamate chains on the gamma-carboxyl group (PubMed:26875866). Polyglutamylation plays a key role in microtubule severing by spastin (SPAST). SPAST preferentially recognizes and acts on microtubules decorated with short polyglutamate tails: severing activity by SPAST increases as the number of glutamates per tubulin rises from one to eight, but decreases beyond this glutamylation threshold (PubMed:26875866).Some glutamate residues at the C-terminus are monoglycylated but not polyglycylated due to the absence of functional TTLL10 in human. Monoglycylation is mainly limited to tubulin incorporated into axonemes (cilia and flagella). Both polyglutamylation and monoglycylation can coexist on the same protein on adjacent residues, and lowering glycylation levels increases polyglutamylation, and reciprocally. The precise function of monoglycylation is still unclear (Probable).Phosphorylated on Ser-172 by CDK1 during the cell cycle, from metaphase to telophase, but not in interphase. This phosphorylation inhibits tubulin incorporation into microtubules.
Tissue Specificity:
Ubiquitously expressed with highest levels in spleen, thymus and immature brain.
Subunit Structure:
Heterodimer of alpha and beta chains (PubMed:26637975). A typical microtubule is a hollow water-filled tube with an outer diameter of 25 nm and an inner diameter of 15 nM. Alpha-beta heterodimers associate head-to-tail to form protofilaments running lengthwise along the microtubule wall with the beta-tubulin subunit facing the microtubule plus end conferring a structural polarity. Microtubules usually have 13 protofilaments but different protofilament numbers can be found in some organisms and specialized cells. Interacts with PIFO (PubMed:20643351). Interacts with DIAPH1 (PubMed:23325789). Interacts with MX1 (By similarity). May interact with RNABP10 (By similarity). Interacts with CFAP157 (By similarity).
Similarity:
The highly acidic C-terminal region may bind cations such as calcium.Belongs to the tubulin family.
Protein BLAST With
Sequence:
        10         20         30         40         50
MREIVHIQAG QCGNQIGAKF WEVISDEHGI DPTGTYHGDS DLQLDRISVY 
        60         70         80         90        100
YNEATGGKYV PRAILVDLEP GTMDSVRSGP FGQIFRPDNF VFGQSGAGNN 
       110        120        130        140        150
WAKGHYTEGA ELVDSVLDVV RKEAESCDCL QGFQLTHSLG GGTGSGMGTL 
       160        170        180        190        200
LISKIREEYP DRIMNTFSVV PSPKVSDTVV EPYNATLSVH QLVENTDETY 
       210        220        230        240        250
CIDNEALYDI CFRTLKLTTP TYGDLNHLVS ATMSGVTTCL RFPGQLNADL 
       260        270        280        290        300
RKLAVNMVPF PRLHFFMPGF APLTSRGSQQ YRALTVPELT QQVFDAKNMM 
       310        320        330        340        350
AACDPRHGRY LTVAAVFRGR MSMKEVDEQM LNVQNKNSSY FVEWIPNNVK 
       360        370        380        390        400
TAVCDIPPRG LKMAVTFIGN STAIQELFKR ISEQFTAMFR RKAFLHWYTG 
       410        420        430        440 
EGMDEMEFTE AESNMNDLVS EYQQYQDATA EEEEDFGEEA EEEA       

Storage Condition and Buffer:
Rabbit IgG in phosphate buffered saline , pH 7.4, 150mM NaCl, 0.02% sodium azide and 50% glycerol.Store at -20 °C.Stable for 12 months from date of receipt.
IMPORTANT: For western blots, incubate membrane with diluted antibody in 5% w/v milk , 1X TBS, 0.1% Tween®20
at 4°C with gentle shaking, overnight.
Catalog Number :
AF7011-BP
Price/Size :
$200/1mg.
Tips: For phospho antibody, we provide phospho peptide(0.5mg) and non-phospho peptide(0.5mg).
Function :
Blocking peptides are peptides that bind specifically to the target antibody and block antibody binding. These peptide usually contains the epitope recognized by the antibody. Antibodies bound to the blocking peptide no longer bind to the epitope on the target protein. This mechanism is useful when non-specific binding is an issue, for example, in Western blotting (immunoblot) and immunohistochemistry (IHC). By comparing the staining from the blocked antibody versus the antibody alone, one can see which staining is specific; Specific binding will be absent from the western blot or immunostaining performed with the neutralized antibody.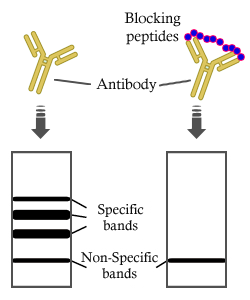 Format :
Synthetic peptide was lyophilized with 100% acetonitrile and is supplied as a powder. Reconstitute with 0.1 ml DI water for a final concentration of 1 mg/ml.The purity is >90%,tested by HPLC and MS.Storage Maintain refrigerated at 2-8°C for up to 6 months. For long term storage store at -20°C.
Precautions :
This product is for research use only. Not for use in diagnostic or therapeutic procedures.