Expand↓
Alternative Names:
TUBA1A; Alpha-tubulin 3; B-ALPHA-1; Hum-a-tub1; TUBA3; Tubulin alpha-3 chain; Tubulin B-alpha-1; Tubulin, alpha 1a; Tubulin; alpha; brain-specific; Hum-a-tub2; LIS3; Tubulin Alpha 1a; Tubulin alpha-1A chain;
Applications:
WB 1:5000-1:20000 IHC 1:50-1:200 IF/ICC 1:100-1:500, ELISA(peptide) 1:20000-1:40000
Source:
Rabbit
Reactivity:
Human,Mouse,Rat,Pig,Bovine,Rabbit,Chicken,Fish
Clonality:
Polyclonal
Concentration:
1mg/ml
Molecular Weight:
Observed: 50kDa. Predicted: 51kDa.
Purification:
The antiserum was purified by peptide affinity chromatography using SulfoLink™ Coupling Resin (Thermo Fisher Scientific).
Specificity:
Tubulin alpha Antibody detects endogenous levels of total Tubulin alpha.
Immunogen:
A synthesized peptide derived from human Tubulin alpha.
Uniprot:
Gene id:
Research Fields:
· Cellular Processes > Transport and catabolism > Phagosome.(View pathway)
· Cellular Processes > Cellular community - eukaryotes > Tight junction.(View pathway)
· Cellular Processes > Cellular community - eukaryotes > Gap junction.(View pathway)
· Cellular Processes > Cell growth and death > Apoptosis.(View pathway)
· Human Diseases > Infectious diseases: Bacterial > Pathogenic Escherichia coli infection.

Description:
TUBA1B Tubulin is the major constituent of microtubules. It binds two moles of GTP, one at an exchangeable site on the beta chain and one at a non-exchangeable site on the alpha-chain. Dimer of alpha and beta chains. Belongs to the tubulin family
Function:
Tubulin is the major constituent of microtubules. It binds two moles of GTP, one at an exchangeable site on the beta chain and one at a non-exchangeable site on the alpha chain.
Subcellular Location:
Cytoplasm, cytoskeleton.
Post-translational Modifications:
Some glutamate residues at the C-terminus are polyglutamylated, resulting in polyglutamate chains on the gamma-carboxyl group (PubMed:26875866). Polyglutamylation plays a key role in microtubule severing by spastin (SPAST). SPAST preferentially recognizes and acts on microtubules decorated with short polyglutamate tails: severing activity by SPAST increases as the number of glutamates per tubulin rises from one to eight, but decreases beyond this glutamylation threshold (PubMed:26875866).Some glutamate residues at the C-terminus are monoglycylated but not polyglycylated due to the absence of functional TTLL10 in human. Monoglycylation is mainly limited to tubulin incorporated into axonemes (cilia and flagella). Both polyglutamylation and monoglycylation can coexist on the same protein on adjacent residues, and lowering glycylation levels increases polyglutamylation, and reciprocally. The precise function of monoglycylation is still unclear (Probable).Acetylation of alpha chains at Lys-40 is located inside the microtubule lumen. This modification has been correlated with increased microtubule stability, intracellular transport and ciliary assembly.Methylation of alpha chains at Lys-40 is found in mitotic microtubules and is required for normal mitosis and cytokinesis contributing to genomic stability.Nitration of Tyr-451 is irreversible and interferes with normal dynein intracellular distribution.Undergoes a tyrosination/detyrosination cycle, the cyclic removal and re-addition of a C-terminal tyrosine residue by the enzymes tubulin tyrosine carboxypeptidase (TTCP) and tubulin tyrosine ligase (TTL), respectively.Tubulin alpha-1B chain: Tyrosination promotes microtubule interaction with CAP-Gly domain-containing proteins such as CLIP1, CLIP2 and DCTN1 (By similarity). Tyrosination regulates the initiation of dynein-dynactin motility via interaction with DCTN1, which brings the dynein-dynactin complex into contact with microtubules (PubMed:26972003). In neurons, tyrosinated tubulins mediate the initiation of retrograde vesicle transport (By similarity).Detyrosinated tubulin alpha-1B chain: Detyrosination is involved in metaphase plate congression by guiding chromosomes during mitosis: detyrosination promotes interaction with CENPE, promoting pole-proximal transport of chromosomes toward the equator (PubMed:25908662). Detyrosination increases microtubules-dependent mechanotransduction in dystrophic cardiac and skeletal muscle. In cardiomyocytes, detyrosinated microtubules are required to resist to contractile compression during contraction: detyrosination promotes association with desmin (DES) at force-generating sarcomeres, leading to buckled microtubules and mechanical resistance to contraction (By similarity).
Subunit Structure:
Dimer of alpha and beta chains. A typical microtubule is a hollow water-filled tube with an outer diameter of 25 nm and an inner diameter of 15 nM. Alpha-beta heterodimers associate head-to-tail to form protofilaments running lengthwise along the microtubule wall with the beta-tubulin subunit facing the microtubule plus end conferring a structural polarity. Microtubules usually have 13 protofilaments but different protofilament numbers can be found in some organisms and specialized cells.
Similarity:
Belongs to the tubulin family.
Protein BLAST With
Sequence:
        10         20         30         40         50
MRECISIHVG QAGVQIGNAC WELYCLEHGI QPDGQMPSDK TIGGGDDSFN 
        60         70         80         90        100
TFFSETGAGK HVPRAVFVDL EPTVIDEVRT GTYRQLFHPE QLITGKEDAA 
       110        120        130        140        150
NNYARGHYTI GKEIIDLVLD RIRKLADQCT GLQGFLVFHS FGGGTGSGFT 
       160        170        180        190        200
SLLMERLSVD YGKKSKLEFS IYPAPQVSTA VVEPYNSILT THTTLEHSDC 
       210        220        230        240        250
AFMVDNEAIY DICRRNLDIE RPTYTNLNRL ISQIVSSITA SLRFDGALNV 
       260        270        280        290        300
DLTEFQTNLV PYPRIHFPLA TYAPVISAEK AYHEQLSVAE ITNACFEPAN 
       310        320        330        340        350
QMVKCDPRHG KYMACCLLYR GDVVPKDVNA AIATIKTKRS IQFVDWCPTG 
       360        370        380        390        400
FKVGINYQPP TVVPGGDLAK VQRAVCMLSN TTAIAEAWAR LDHKFDLMYA 
       410        420        430        440        450
KRAFVHWYVG EGMEEGEFSE AREDMAALEK DYEEVGVDSV EGEGEEEGEE 

Y                                                      

Storage Condition and Buffer:
Rabbit IgG in phosphate buffered saline , pH 7.4, 150mM NaCl, 0.02% sodium azide and 50% glycerol.Store at -20 °C.Stable for 12 months from date of receipt.
IMPORTANT: For western blots, incubate membrane with diluted antibody in 5% w/v milk , 1X TBS, 0.1% Tween®20
at 4°C with gentle shaking, overnight.
Catalog Number :
AF7010-BP
Price/Size :
$200/1mg.
Tips: For phospho antibody, we provide phospho peptide(0.5mg) and non-phospho peptide(0.5mg).
Function :
Blocking peptides are peptides that bind specifically to the target antibody and block antibody binding. These peptide usually contains the epitope recognized by the antibody. Antibodies bound to the blocking peptide no longer bind to the epitope on the target protein. This mechanism is useful when non-specific binding is an issue, for example, in Western blotting (immunoblot) and immunohistochemistry (IHC). By comparing the staining from the blocked antibody versus the antibody alone, one can see which staining is specific; Specific binding will be absent from the western blot or immunostaining performed with the neutralized antibody.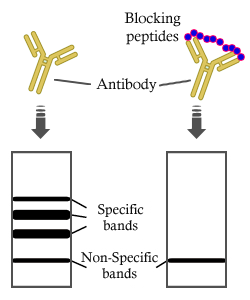 Format :
Synthetic peptide was lyophilized with 100% acetonitrile and is supplied as a powder. Reconstitute with 0.1 ml DI water for a final concentration of 1 mg/ml.The purity is >90%,tested by HPLC and MS.Storage Maintain refrigerated at 2-8°C for up to 6 months. For long term storage store at -20°C.
Precautions :
This product is for research use only. Not for use in diagnostic or therapeutic procedures.