Expand↓
Alternative Names:
GAPDH; A1 40 kd subunit; Activator 1 40 kd subunit; G3PD; GAPD; G3pdh; Rfc40; Rf-c 40 kd subunit;
Applications:
WB: 1:3000~1:10000, IHC: 1:200, IF/ICC: 1:200, ELISA(peptide) 1:20000-1:40000
Source:
Mouse
Reactivity:
Human,Mouse,Rat,Pig,Zebrafish,Bovine,Sheep,Rabbit,Goat,Guinea pig,Dog,Monkey,Hamster,Chicken,Plants,Rice,Fish
Clonality:
Monoclonal (2F40)
Concentration:
1mg/ml
Molecular Weight:
Observed: 34KD. Predicted: 37kDa.
Purification:
Affinity-chromatography.
Specificity:
GAPDH Mouse Monoclonal antibody detects endogenous levels of total GAPDH protein.
Immunogen:
Full-length GAPDH protein of human.
Uniprot:
Gene id:
Research Fields:
· Environmental Information Processing > Signal transduction > HIF-1 signaling pathway.(View pathway)
· Human Diseases > Neurodegenerative diseases > Alzheimer's disease.
· Metabolism > Global and overview maps > Biosynthesis of amino acids.
· Metabolism > Global and overview maps > Carbon metabolism.
· Metabolism > Carbohydrate metabolism > Glycolysis / Gluconeogenesis.
· Metabolism > Global and overview maps > Metabolic pathways.

Description:
Glyceraldehyde 3 phosphate dehydrogenase (GAPDH) is well known as one of the key enzymes involved in glycolysis. GAPDH is constitutively abundant expressed in almost cell types at high levels, therefore antibodies against GAPDH are useful as loading controls for Western Blotting. Some pathology factors, such as hypoxia and diabetes, increased or decreased GAPDH expression in certain cell types.
Function:
Has both glyceraldehyde-3-phosphate dehydrogenase and nitrosylase activities, thereby playing a role in glycolysis and nuclear functions, respectively. Participates in nuclear events including transcription, RNA transport, DNA replication and apoptosis. Nuclear functions are probably due to the nitrosylase activity that mediates cysteine S-nitrosylation of nuclear target proteins such as SIRT1, HDAC2 and PRKDC. Modulates the organization and assembly of the cytoskeleton. Facilitates the CHP1-dependent microtubule and membrane associations through its ability to stimulate the binding of CHP1 to microtubules (By similarity). Glyceraldehyde-3-phosphate dehydrogenase is a key enzyme in glycolysis that catalyzes the first step of the pathway by converting D-glyceraldehyde 3-phosphate (G3P) into 3-phospho-D-glyceroyl phosphate. Component of the GAIT (gamma interferon-activated inhibitor of translation) complex which mediates interferon-gamma-induced transcript-selective translation inhibition in inflammation processes. Upon interferon-gamma treatment assembles into the GAIT complex which binds to stem loop-containing GAIT elements in the 3'-UTR of diverse inflammatory mRNAs (such as ceruplasmin) and suppresses their translation.
Subcellular Location:
Cytoplasm > cytosol. Nucleus. Cytoplasm > perinuclear region. Membrane. Translocates to the nucleus following S-nitrosylation and interaction with SIAH1, which contains a nuclear localization signal (By similarity). Postnuclear and Perinuclear regions.
Post-translational Modifications:
S-nitrosylation of Cys-152 leads to interaction with SIAH1, followed by translocation to the nucleus (By similarity). S-nitrosylation of Cys-247 is induced by interferon-gamma and LDL(ox) implicating the iNOS-S100A8/9 transnitrosylase complex and seems to prevent interaction with phosphorylated RPL13A and to interfere with GAIT complex activity.ISGylated.Sulfhydration at Cys-152 increases catalytic activity.Oxidative stress can promote the formation of high molecular weight disulfide-linked GAPDH aggregates, through a process called nucleocytoplasmic coagulation. Such aggregates can be observed in vivo in the affected tissues of patients with Alzheimer disease or alcoholic liver cirrhosis, or in cell cultures during necrosis. Oxidation at Met-46 may play a pivotal role in the formation of these insoluble structures. This modification has been detected in vitro following treatment with free radical donor (+/-)-(E)-4-ethyl-2-[(E)-hydroxyimino]-5-nitro-3-hexenamide. It has been proposed to destabilize nearby residues, increasing the likelihood of secondary oxidative damages, including oxidation of Tyr-45 and Met-105. This cascade of oxidations may augment GAPDH misfolding, leading to intermolecular disulfide cross-linking and aggregation.
Subunit Structure:
Homotetramer. Interacts with TPPP; the interaction is direct. Interacts (when S-nitrosylated) with SIAH1; leading to nuclear translocation. Interacts with RILPL1/GOSPEL, leading to prevent the interaction between GAPDH and SIAH1 and prevent nuclear translocation. Interacts with CHP1; the interaction increases the binding of CHP1 with microtubules. Associates with microtubules (By similarity). Interacts with EIF1AD, USP25, PRKCI and WARS. Interacts with phosphorylated RPL13A; inhibited by oxidatively-modified low-densitity lipoprotein (LDL(ox)). Component of the GAIT complex. Interacts with FKBP6; leading to inhibit GAPDH catalytic activity.
Similarity:
The [IL]-x-C-x-x-[DE] motif is a proposed target motif for cysteine S-nitrosylation mediated by the iNOS-S100A8/A9 transnitrosylase complex.Belongs to the glyceraldehyde-3-phosphate dehydrogenase family.
Protein BLAST With
Sequence:
        10         20         30         40         50
MGKVKVGVNG FGRIGRLVTR AAFNSGKVDI VAINDPFIDL NYMVYMFQYD 
        60         70         80         90        100
STHGKFHGTV KAENGKLVIN GNPITIFQER DPSKIKWGDA GAEYVVESTG 
       110        120        130        140        150
VFTTMEKAGA HLQGGAKRVI ISAPSADAPM FVMGVNHEKY DNSLKIISNA 
       160        170        180        190        200
SCTTNCLAPL AKVIHDNFGI VEGLMTTVHA ITATQKTVDG PSGKLWRDGR 
       210        220        230        240        250
GALQNIIPAS TGAAKAVGKV IPELNGKLTG MAFRVPTANV SVVDLTCRLE 
       260        270        280        290        300
KPAKYDDIKK VVKQASEGPL KGILGYTEHQ VVSSDFNSDT HSSTFDAGAG 
       310        320        330 
IALNDHFVKL ISWYDNEFGY SNRVVDLMAH MASKE                 

Storage Condition and Buffer:
Mouse IgG1 in phosphate buffered saline (without Mg2+ and Ca2+), pH 7.4, 150mM NaCl, 0.02% sodium azide and 50% glycerol.Store at -20 °C.Stable for 12 months from date of receipt.
IMPORTANT: For western blots, incubate membrane with diluted antibody in 5% w/v milk , 1X TBS, 0.1% Tween®20
at 4°C with gentle shaking, overnight.
Catalog Number :
T0004-BP
Price/Size :
$200/1mg.
Tips: For phospho antibody, we provide phospho peptide(0.5mg) and non-phospho peptide(0.5mg).
Function :
Blocking peptides are peptides that bind specifically to the target antibody and block antibody binding. These peptide usually contains the epitope recognized by the antibody. Antibodies bound to the blocking peptide no longer bind to the epitope on the target protein. This mechanism is useful when non-specific binding is an issue, for example, in Western blotting (immunoblot) and immunohistochemistry (IHC). By comparing the staining from the blocked antibody versus the antibody alone, one can see which staining is specific; Specific binding will be absent from the western blot or immunostaining performed with the neutralized antibody.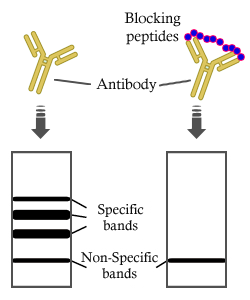 Format :
Synthetic peptide was lyophilized with 100% acetonitrile and is supplied as a powder. Reconstitute with 0.1 ml DI water for a final concentration of 1 mg/ml.The purity is >90%,tested by HPLC and MS.Storage Maintain refrigerated at 2-8°C for up to 6 months. For long term storage store at -20°C.
Precautions :
This product is for research use only. Not for use in diagnostic or therapeutic procedures.