Expand↓
Alternative Names:
A26C1A; A26C1B; ACTB; ACTB_HUMAN; Actin beta; Actin cytoplasmic 1; Actin, cytoplasmic 1, N-terminally processed; Actx; b actin; Beta cytoskeletal actin; Beta-actin; BRWS1; E430023M04Rik; MGC128179; PS1TP5 binding protein 1; PS1TP5BP1; ACT; ACTBL3; FKSG30; POTE ankyrin domain family member K pseudogene; POTE2delta; POTEK; ACT; ACTB; ACTG; ACTG_HUMAN; actg1; Actin; Actin, cytoplasmic 2; Actin, gamma 1; Actin, gamma 1 propeptide; Actin, gamma; BRWS2; cytoplasmic 2; Cytoskeletal gamma actin; Deafness, autosomal dominant 20; Deafness, autosomal dominant 26; DFNA20; DFNA26; epididymis luminal protein 176; Gamma-actin; HEL-176; N-terminally processed;
Applications:
WB: 1:500~1:3000 IHC: 1:50~1:200, IF/ICC 1:100-1:500, ELISA(peptide) 1:20000-1:40000
Source:
Rabbit
Reactivity:
Human,Mouse,Rat
Clonality:
Polyclonal
Concentration:
1mg/ml
Molecular Weight:
Observed: 45kDa. Predicted: 42kDa.
Purification:
The antiserum was purified by peptide affinity chromatography using SulfoLink™ Coupling Resin (Thermo Fisher Scientific).
Specificity:
Actin-pan antibody detects endogenous levels of total Actin-pan.
Immunogen:
A synthesized peptide derived from human Actin-pan.
Uniprot:
Gene id:
Show more↓
Research Fields:
· Cellular Processes > Transport and catabolism > Phagosome.(View pathway)
· Cellular Processes > Cellular community - eukaryotes > Focal adhesion.(View pathway)
· Cellular Processes > Cellular community - eukaryotes > Tight junction.(View pathway)
· Cellular Processes > Cell growth and death > Apoptosis.(View pathway)
· Cellular Processes > Cellular community - eukaryotes > Adherens junction.(View pathway)
· Cellular Processes > Cell motility > Regulation of actin cytoskeleton.(View pathway)
· Environmental Information Processing > Signal transduction > Hippo signaling pathway.(View pathway)
· Environmental Information Processing > Signal transduction > Rap1 signaling pathway.(View pathway)
· Human Diseases > Cancers: Overview > Proteoglycans in cancer.
· Human Diseases > Cancers: Specific types > Hepatocellular carcinoma.(View pathway)

Description:
ACT, Actin, cytoplasmic 1
Function:
Actins are highly conserved proteins that are involved in various types of cell motility and are ubiquitously expressed in all eukaryotic cells.
Subcellular Location:
Cytoplasm > cytoskeleton. Localized in cytoplasmic mRNP granules containing untranslated mRNAs.
Post-translational Modifications:
ISGylated.Oxidation of Met-44 and Met-47 by MICALs (MICAL1, MICAL2 or MICAL3) to form methionine sulfoxide promotes actin filament depolymerization. MICAL1 and MICAL2 produce the (R)-S-oxide form. The (R)-S-oxide form is reverted by MSRB1 and MSRB2, which promote actin repolymerization (By similarity).Monomethylation at Lys-84 (K84me1) regulates actin-myosin interaction and actomyosin-dependent processes. Demethylation by ALKBH4 is required for maintaining actomyosin dynamics supporting normal cleavage furrow ingression during cytokinesis and cell migration.(Microbial infection) Monomeric actin is cross-linked by V.cholerae toxins RtxA and VgrG1 in case of infection: bacterial toxins mediate the cross-link between Lys-50 of one monomer and Glu-270 of another actin monomer, resulting in formation of highly toxic actin oligomers that cause cell rounding (PubMed:19015515). The toxin can be highly efficient at very low concentrations by acting on formin homology family proteins: toxic actin oligomers bind with high affinity to formins and adversely affect both nucleation and elongation abilities of formins, causing their potent inhibition in both profilin-dependent and independent manners (PubMed:26228148).
Subunit Structure:
Interacts with CPNE1 (via VWFA domain) and CPNE4 (via VWFA domain) (By similarity). Polymerization of globular actin (G-actin) leads to a structural filament (F-actin) in the form of a two-stranded helix. Each actin can bind to 4 others. Identified in a IGF2BP1-dependent mRNP granule complex containing untranslated mRNAs. Component of the BAF complex, which includes at least actin (ACTB), ARID1A, ARID1B/BAF250, SMARCA2, SMARCA4/BRG1, ACTL6A/BAF53, ACTL6B/BAF53B, SMARCE1/BAF57 SMARCC1/BAF155, SMARCC2/BAF170, SMARCB1/SNF5/INI1, and one or more of SMARCD1/BAF60A, SMARCD2/BAF60B, or SMARCD3/BAF60C. In muscle cells, the BAF complex also contains DPF3. Found in a complex with XPO6, Ran, ACTB and PFN1. Interacts with XPO6 and EMD. Interacts with ERBB2. Interacts with GCSAM. Interacts with TBC1D21 (By similarity). Interacts with DHX9 (via C-terminus); this interaction is direct and mediates the attachment to nuclear ribonucleoprotein complexes (PubMed:11687588).
Similarity:
Belongs to the actin family.
Protein BLAST With
Sequence:
        10         20         30         40         50
MDDDIAALVV DNGSGMCKAG FAGDDAPRAV FPSIVGRPRH QGVMVGMGQK 
        60         70         80         90        100
DSYVGDEAQS KRGILTLKYP IEHGIVTNWD DMEKIWHHTF YNELRVAPEE 
       110        120        130        140        150
HPVLLTEAPL NPKANREKMT QIMFETFNTP AMYVAIQAVL SLYASGRTTG 
       160        170        180        190        200
IVMDSGDGVT HTVPIYEGYA LPHAILRLDL AGRDLTDYLM KILTERGYSF 
       210        220        230        240        250
TTTAEREIVR DIKEKLCYVA LDFEQEMATA ASSSSLEKSY ELPDGQVITI 
       260        270        280        290        300
GNERFRCPEA LFQPSFLGME SCGIHETTFN SIMKCDVDIR KDLYANTVLS 
       310        320        330        340        350
GGTTMYPGIA DRMQKEITAL APSTMKIKII APPERKYSVW IGGSILASLS 
       360        370 
TFQQMWISKQ EYDESGPSIV HRKCF                            

Storage Condition and Buffer:
Rabbit IgG in phosphate buffered saline , pH 7.4, 150mM NaCl, 0.02% sodium azide and 50% glycerol.Store at -20 °C.Stable for 12 months from date of receipt.
IMPORTANT: For western blots, incubate membrane with diluted antibody in 5% w/v milk , 1X TBS, 0.1% Tween®20
at 4°C with gentle shaking, overnight.
Catalog Number :
AF0115-BP
Price/Size :
$200/1mg.
Tips: For phospho antibody, we provide phospho peptide(0.5mg) and non-phospho peptide(0.5mg).
Function :
Blocking peptides are peptides that bind specifically to the target antibody and block antibody binding. These peptide usually contains the epitope recognized by the antibody. Antibodies bound to the blocking peptide no longer bind to the epitope on the target protein. This mechanism is useful when non-specific binding is an issue, for example, in Western blotting (immunoblot) and immunohistochemistry (IHC). By comparing the staining from the blocked antibody versus the antibody alone, one can see which staining is specific; Specific binding will be absent from the western blot or immunostaining performed with the neutralized antibody.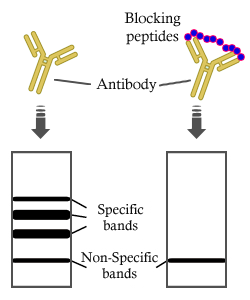 Format :
Synthetic peptide was lyophilized with 100% acetonitrile and is supplied as a powder. Reconstitute with 0.1 ml DI water for a final concentration of 1 mg/ml.The purity is >90%,tested by HPLC and MS.Storage Maintain refrigerated at 2-8°C for up to 6 months. For long term storage store at -20°C.
Precautions :
This product is for research use only. Not for use in diagnostic or therapeutic procedures.