Applications:
WB: 1:3000~1:10000, ELISA(peptide) 1:20000-1:40000
Source:
Rabbit
Reactivity:
All
Clonality:
Polyclonal
Concentration:
1mg/ml
Molecular Weight:
Observed: Not available. Predicted: Not available.
Purification:
The antiserum was purified by peptide affinity chromatography using SulfoLink™ Coupling Resin (Thermo Fisher Scientific).
Specificity:
The His tag antibody can recognize C-terminal, internal, and N-terminal His-tag fusion proteins.
Immunogen:
Rabbit polyclonal antibody is prepared by immunizing synthetic peptide coupled to KLH.
Description:
A polyhistidine-tag is an amino acid motif in proteins that consists of at least five histidine (His) residues, often at the N- or C-terminus of the protein. Monoclonal antibodies specific to six histidine tags can greatly improve the effectiveness of several different kinds of immunoassays, helping researchers identify, detect, and purify polyhistidine fusion proteins in bacteria, insect cells, and mammalian cells.
Subcellular Location:
Endoplasmic reticulum membrane. Microsome membrane.
Storage Condition and Buffer:
1mg/ml in PBS, pH 7.4, containing 0.02% sodium azide and glycerol.
IMPORTANT: For western blots, incubate membrane with diluted antibody in 5% w/v milk , 1X TBS, 0.1% Tween®20
at 4°C with gentle shaking, overnight.
Catalog Number :
T0051-BP
Price/Size :
$200/1mg.
Tips: For phospho antibody, we provide phospho peptide(0.5mg) and non-phospho peptide(0.5mg).
Function :
Blocking peptides are peptides that bind specifically to the target antibody and block antibody binding. These peptide usually contains the epitope recognized by the antibody. Antibodies bound to the blocking peptide no longer bind to the epitope on the target protein. This mechanism is useful when non-specific binding is an issue, for example, in Western blotting (immunoblot) and immunohistochemistry (IHC). By comparing the staining from the blocked antibody versus the antibody alone, one can see which staining is specific; Specific binding will be absent from the western blot or immunostaining performed with the neutralized antibody.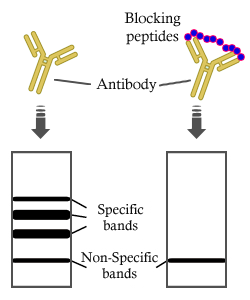 Format :
Synthetic peptide was lyophilized with 100% acetonitrile and is supplied as a powder. Reconstitute with 0.1 ml DI water for a final concentration of 1 mg/ml.The purity is >90%,tested by HPLC and MS.Storage Maintain refrigerated at 2-8°C for up to 6 months. For long term storage store at -20°C.
Precautions :
This product is for research use only. Not for use in diagnostic or therapeutic procedures.