Purification:
The antibody is from purified rabbit serum by affinity purification via sequential chromatography on phospho- and non-phospho-peptide affinity columns.
Specificity:
Phospho-Retinoblastoma(Thr826) Antibody detects endogenous levels of Retinoblastoma only when phosphorylated at Threonine 826.
Immunogen:
A synthesized peptide derived from human Retinoblastoma around the phosphorylation site of Threonine 826.
Uniprot:
Gene id:
Show more↓
Research Fields:
· Cellular Processes > Cell growth and death > Cell cycle.(View pathway)
· Cellular Processes > Cell growth and death > Cellular senescence.(View pathway)
· Human Diseases > Cancers: Specific types > Pancreatic cancer.(View pathway)
· Human Diseases > Cancers: Specific types > Bladder cancer.(View pathway)
· Human Diseases > Cancers: Overview > Pathways in cancer.(View pathway)
· Human Diseases > Cancers: Specific types > Gastric cancer.(View pathway)
· Human Diseases > Cancers: Specific types > Non-small cell lung cancer.(View pathway)
· Human Diseases > Cancers: Specific types > Glioma.(View pathway)
· Human Diseases > Cancers: Specific types > Hepatocellular carcinoma.(View pathway)
· Human Diseases > Cancers: Specific types > Breast cancer.(View pathway)

Description:
Retinoblastoma (RB) is an embryonic malignant neoplasm of retinal origin. It almost always presents in early childhood and is often bilateral. Spontaneous regression ('cure') occurs in some cases.
Function:
Key regulator of entry into cell division that acts as a tumor suppressor. Promotes G0-G1 transition when phosphorylated by CDK3/cyclin-C. Acts as a transcription repressor of E2F1 target genes. The underphosphorylated, active form of RB1 interacts with E2F1 and represses its transcription activity, leading to cell cycle arrest. Directly involved in heterochromatin formation by maintaining overall chromatin structure and, in particular, that of constitutive heterochromatin by stabilizing histone methylation. Recruits and targets histone methyltransferases SUV39H1, KMT5B and KMT5C, leading to epigenetic transcriptional repression. Controls histone H4 'Lys-20' trimethylation. Inhibits the intrinsic kinase activity of TAF1. Mediates transcriptional repression by SMARCA4/BRG1 by recruiting a histone deacetylase (HDAC) complex to the c-FOS promoter. In resting neurons, transcription of the c-FOS promoter is inhibited by BRG1-dependent recruitment of a phospho-RB1-HDAC1 repressor complex. Upon calcium influx, RB1 is dephosphorylated by calcineurin, which leads to release of the repressor complex (By similarity). In case of viral infections, interactions with SV40 large T antigen, HPV E7 protein or adenovirus E1A protein induce the disassembly of RB1-E2F1 complex thereby disrupting RB1's activity.
Subcellular Location:
Nucleus.
Post-translational Modifications:
Phosphorylated by CDK6 and CDK4, and subsequently by CDK2 at Ser-567 in G1, thereby releasing E2F1 which is then able to activate cell growth. Dephosphorylated at the late M phase. SV40 large T antigen, HPV E7 and adenovirus E1A bind to the underphosphorylated, active form of pRb. Phosphorylation at Thr-821 and Thr-826 promotes interaction between the C-terminal domain C and the Pocket domain, and thereby inhibits interactions with heterodimeric E2F/DP transcription factor complexes. Dephosphorylated at Ser-795 by calcineruin upon calcium stimulation. CDK3/cyclin-C-mediated phosphorylation at Ser-807 and Ser-811 is required for G0-G1 transition. Phosphorylated by CDK1 and CDK2 upon TGFB1-mediated apoptosis (By similarity).N-terminus is methylated by METTL11A/NTM1 (By similarity). Monomethylation at Lys-810 by SMYD2 enhances phosphorylation at Ser-807 and Ser-811, and promotes cell cycle progression. Monomethylation at Lys-860 by SMYD2 promotes interaction with L3MBTL1.Acetylation at Lys-873 and Lys-874 regulates subcellular localization, at least during keratinocytes differentiation.
Tissue Specificity:
Expressed in the retina.
Subunit Structure:
Interacts with ATAD5. Interacts with PRMT2, CDK1 and CDK2 (By similarity). The hypophosphorylated form interacts with and sequesters the E2F1 transcription factor. Interacts with heterodimeric E2F/DP transcription factor complexes containing TFDP1 and either E2F1, E2F3, E2F4 or E2F5, or TFDP2 and E2F4. The unphosphorylated form interacts with EID1, ARID3B, KDM5A, SUV39H1, MJD2A/JHDM3A and THOC1. Interacts with the N-terminal domain of TAF1. Interacts with SNW1, AATF, DNMT1, LIN9, LMNA, KMT5B, KMT5C, PELP1, UHRF2 and TMPO-alpha. May interact with NDC80. Interacts with GRIP1 and UBR4. Interacts with ARID4A and KDM5B. Interacts with E4F1 and LIMD1. Interacts with SMARCA4/BRG1 AND HDAC1 (By similarity). Interacts with PSMA3 and USP4. Interacts (when methylated at Lys-860) with L3MBTL1. Interacts with CHEK2; phosphorylates RB1. Interacts with CEBPA (PubMed:15107404). Interacts with adenovirus E1A protein, HPV E7 protein and SV40 large T antigen. Interacts with human cytomegalovirus/HHV-5 protein UL123. P-TEFB complex interacts with RB1; promotes phosphorylation of RB1 (PubMed:12037672).
Similarity:
The Pocket domain binds to the threonine-phosphorylated domain C, thereby preventing interaction with heterodimeric E2F/DP transcription factor complexes.Belongs to the retinoblastoma protein (RB) family.
Protein BLAST With
Sequence:
        10         20         30         40         50
MPPKTPRKTA ATAAAAAAEP PAPPPPPPPE EDPEQDSGPE DLPLVRLEFE 
        60         70         80         90        100
ETEEPDFTAL CQKLKIPDHV RERAWLTWEK VSSVDGVLGG YIQKKKELWG 
       110        120        130        140        150
ICIFIAAVDL DEMSFTFTEL QKNIEISVHK FFNLLKEIDT STKVDNAMSR 
       160        170        180        190        200
LLKKYDVLFA LFSKLERTCE LIYLTQPSSS ISTEINSALV LKVSWITFLL 
       210        220        230        240        250
AKGEVLQMED DLVISFQLML CVLDYFIKLS PPMLLKEPYK TAVIPINGSP 
       260        270        280        290        300
RTPRRGQNRS ARIAKQLEND TRIIEVLCKE HECNIDEVKN VYFKNFIPFM 
       310        320        330        340        350
NSLGLVTSNG LPEVENLSKR YEEIYLKNKD LDARLFLDHD KTLQTDSIDS 
       360        370        380        390        400
FETQRTPRKS NLDEEVNVIP PHTPVRTVMN TIQQLMMILN SASDQPSENL 
       410        420        430        440        450
ISYFNNCTVN PKESILKRVK DIGYIFKEKF AKAVGQGCVE IGSQRYKLGV 
       460        470        480        490        500
RLYYRVMESM LKSEEERLSI QNFSKLLNDN IFHMSLLACA LEVVMATYSR 
       510        520        530        540        550
STSQNLDSGT DLSFPWILNV LNLKAFDFYK VIESFIKAEG NLTREMIKHL 
       560        570        580        590        600
ERCEHRIMES LAWLSDSPLF DLIKQSKDRE GPTDHLESAC PLNLPLQNNH 
       610        620        630        640        650
TAADMYLSPV RSPKKKGSTT RVNSTANAET QATSAFQTQK PLKSTSLSLF 
       660        670        680        690        700
YKKVYRLAYL RLNTLCERLL SEHPELEHII WTLFQHTLQN EYELMRDRHL 
       710        720        730        740        750
DQIMMCSMYG ICKVKNIDLK FKIIVTAYKD LPHAVQETFK RVLIKEEEYD 
       760        770        780        790        800
SIIVFYNSVF MQRLKTNILQ YASTRPPTLS PIPHIPRSPY KFPSSPLRIP 
       810        820        830        840        850
GGNIYISPLK SPYKISEGLP TPTKMTPRSR ILVSIGESFG TSEKFQKINQ 
       860        870        880        890        900
MVCNSDRVLK RSAEGSNPPK PLKKLRFDIE GSDEADGSKH LPGESKFQQK 
       910        920 
LAEMTSTRTR MQKQKMNDSM DTSNKEEK                         

Storage Condition and Buffer:
Rabbit IgG in phosphate buffered saline , pH 7.4, 150mM NaCl, 0.02% sodium azide and 50% glycerol.Store at -20 °C.Stable for 12 months from date of receipt.
IMPORTANT: For western blots, incubate membrane with diluted antibody in 5% w/v milk , 1X TBS, 0.1% Tween®20
at 4°C with gentle shaking, overnight.
Catalog Number :
AF0030-BP
Price/Size :
$200/1mg.
Tips: For phospho antibody, we provide phospho peptide(0.5mg) and non-phospho peptide(0.5mg).
Function :
Blocking peptides are peptides that bind specifically to the target antibody and block antibody binding. These peptide usually contains the epitope recognized by the antibody. Antibodies bound to the blocking peptide no longer bind to the epitope on the target protein. This mechanism is useful when non-specific binding is an issue, for example, in Western blotting (immunoblot) and immunohistochemistry (IHC). By comparing the staining from the blocked antibody versus the antibody alone, one can see which staining is specific; Specific binding will be absent from the western blot or immunostaining performed with the neutralized antibody.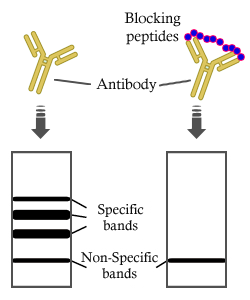 Format :
Synthetic peptide was lyophilized with 100% acetonitrile and is supplied as a powder. Reconstitute with 0.1 ml DI water for a final concentration of 1 mg/ml.The purity is >90%,tested by HPLC and MS.Storage Maintain refrigerated at 2-8°C for up to 6 months. For long term storage store at -20°C.
Precautions :
This product is for research use only. Not for use in diagnostic or therapeutic procedures.