Expand↓
Alternative Names:
A830040C14Rik; Apopain; CASP-3; CASP3; CASP3_HUMAN; Casp3a; Caspase 3; Caspase 3, apoptosis-related cysteine peptidase; Caspase 3, apoptosis-related cysteine protease; Caspase 3, apoptosis-related cysteine protease a; Caspase-3 subunit p12; CC3; CPP-32; CPP32; CPP32B; Cysteine protease CPP32; EC 3.4.22.56; LICE; mldy; OTTHUMP00000165052; OTTHUMP00000165053; OTTHUMP00000165054; PARP cleavage protease; Procaspase3; protein Yama; SCA 1; SCA-1; SREBP cleavage activity 1; Yama;
Applications:
WB 1:500-1:2000 IHC 1:50-1:200, IF/ICC 1:100-1:500, ELISA(peptide) 1:20000-1:40000
Source:
Rabbit
Reactivity:
Human,Mouse,Rat
Clonality:
Polyclonal
Concentration:
1mg/ml
Molecular Weight:
Observed: 17kDa. Predicted: 32kDa.
Purification:
The antiserum was purified by peptide affinity chromatography using SulfoLink™ Coupling Resin (Thermo Fisher Scientific).
Specificity:
Caspase 3 (p17,Cleaved-Asp175) Antibody detects endogenous levels of fragment of activated Caspase 3 resulting from cleavage adjacent to Asp175.
Immunogen:
The antiserum was produced against synthesized peptide derived from human Caspase 3.
Uniprot:
Gene id:
Show more↓
Research Fields:
· Cellular Processes > Cell growth and death > p53 signaling pathway.(View pathway)
· Cellular Processes > Cell growth and death > Apoptosis.(View pathway)
· Cellular Processes > Cell growth and death > Apoptosis - multiple species.(View pathway)
· Environmental Information Processing > Signal transduction > TNF signaling pathway.(View pathway)
· Environmental Information Processing > Signal transduction > MAPK signaling pathway.(View pathway)
· Human Diseases > Cancers: Overview > Pathways in cancer.(View pathway)
· Human Diseases > Cancers: Specific types > Colorectal cancer.(View pathway)
· Human Diseases > Cancers: Overview > Proteoglycans in cancer.
· Human Diseases > Cancers: Overview > MicroRNAs in cancer.
· Human Diseases > Neurodegenerative diseases > Parkinson's disease.

Description:
This gene encodes a protein which is a member of the cysteine-aspartic acid protease (caspase) family. Sequential activation of caspases plays a central role in the execution-phase of cell apoptosis. Caspases exist as inactive proenzymes which undergo proteolytic processing at conserved aspartic residues to produce 2 subunits, large and small, that dimerize to form the active enzyme.
Function:
Involved in the activation cascade of caspases responsible for apoptosis execution. At the onset of apoptosis it proteolytically cleaves poly(ADP-ribose) polymerase (PARP) at a '216-Asp-|-Gly-217' bond. Cleaves and activates sterol regulatory element binding proteins (SREBPs) between the basic helix-loop-helix leucine zipper domain and the membrane attachment domain. Cleaves and activates caspase-6, -7 and -9. Involved in the cleavage of huntingtin. Triggers cell adhesion in sympathetic neurons through RET cleavage.
Subcellular Location:
Cytoplasm.
Post-translational Modifications:
Cleavage by granzyme B, caspase-6, caspase-8 and caspase-10 generates the two active subunits. Additional processing of the propeptides is likely due to the autocatalytic activity of the activated protease. Active heterodimers between the small subunit of caspase-7 protease and the large subunit of caspase-3 also occur and vice versa.S-nitrosylated on its catalytic site cysteine in unstimulated human cell lines and denitrosylated upon activation of the Fas apoptotic pathway, associated with an increase in intracellular caspase activity. Fas therefore activates caspase-3 not only by inducing the cleavage of the caspase zymogen to its active subunits, but also by stimulating the denitrosylation of its active site thiol.
Tissue Specificity:
Highly expressed in lung, spleen, heart, liver and kidney. Moderate levels in brain and skeletal muscle, and low in testis. Also found in many cell lines, highest expression in cells of the immune system.
Subunit Structure:
Heterotetramer that consists of two anti-parallel arranged heterodimers, each one formed by a 17 kDa (p17) and a 12 kDa (p12) subunit. Interacts with BIRC6/bruce.
Similarity:
Belongs to the peptidase C14A family.
Protein BLAST With
Sequence:
        10         20         30         40         50
MENTENSVDS KSIKNLEPKI IHGSESMDSG ISLDNSYKMD YPEMGLCIII 
        60         70         80         90        100
NNKNFHKSTG MTSRSGTDVD AANLRETFRN LKYEVRNKND LTREEIVELM 
       110        120        130        140        150
RDVSKEDHSK RSSFVCVLLS HGEEGIIFGT NGPVDLKKIT NFFRGDRCRS 
       160        170        180        190        200
LTGKPKLFII QACRGTELDC GIETDSGVDD DMACHKIPVE ADFLYAYSTA 
       210        220        230        240        250
PGYYSWRNSK DGSWFIQSLC AMLKQYADKL EFMHILTRVN RKVATEFESF 
       260        270 
SFDATFHAKK QIPCIVSMLT KELYFYH                          

Storage Condition and Buffer:
Rabbit IgG in phosphate buffered saline , pH 7.4, 150mM NaCl, 0.02% sodium azide and 50% glycerol.Store at -20 °C.Stable for 13 months from date of receipt.
IMPORTANT: For western blots, incubate membrane with diluted antibody in 5% w/v milk , 1X TBS, 0.1% Tween®20
at 4°C with gentle shaking, overnight.
Catalog Number :
AF7022-BP
Price/Size :
$200/1mg.
Tips: For phospho antibody, we provide phospho peptide(0.5mg) and non-phospho peptide(0.5mg).
Function :
Blocking peptides are peptides that bind specifically to the target antibody and block antibody binding. These peptide usually contains the epitope recognized by the antibody. Antibodies bound to the blocking peptide no longer bind to the epitope on the target protein. This mechanism is useful when non-specific binding is an issue, for example, in Western blotting (immunoblot) and immunohistochemistry (IHC). By comparing the staining from the blocked antibody versus the antibody alone, one can see which staining is specific; Specific binding will be absent from the western blot or immunostaining performed with the neutralized antibody.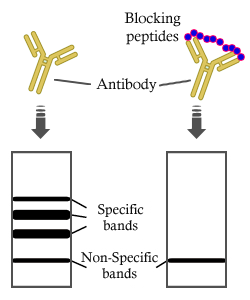 Format :
Synthetic peptide was lyophilized with 100% acetonitrile and is supplied as a powder. Reconstitute with 0.1 ml DI water for a final concentration of 1 mg/ml.The purity is >90%,tested by HPLC and MS.Storage Maintain refrigerated at 2-8°C for up to 6 months. For long term storage store at -20°C.
Precautions :
This product is for research use only. Not for use in diagnostic or therapeutic procedures.