Purification:
affinity purification.
Description:
Affinity®ECL Reagent(femtogram)(KF003) is an enhanced chemiluminescent substrate specially developed for film imaging and is compatible with CCD imaging. The ECL Kit produces a strong signal with very low background for high sensitivity. Additionally, the ECL signal is long lasting, allowing repeated exposures without fear of losing data.
Storage Condition and Buffer:
Store at 2-8 ℃ sealed, avoid light preservation for one year.
IMPORTANT: For western blots, incubate membrane with diluted antibody in 5% w/v milk , 1X TBS, 0.1% Tween®20
at 4°C with gentle shaking, overnight.
Catalog Number :
KF003-BP
Price/Size :
$200/1mg.
Tips: For phospho antibody, we provide phospho peptide(0.5mg) and non-phospho peptide(0.5mg).
Function :
Blocking peptides are peptides that bind specifically to the target antibody and block antibody binding. These peptide usually contains the epitope recognized by the antibody. Antibodies bound to the blocking peptide no longer bind to the epitope on the target protein. This mechanism is useful when non-specific binding is an issue, for example, in Western blotting (immunoblot) and immunohistochemistry (IHC). By comparing the staining from the blocked antibody versus the antibody alone, one can see which staining is specific; Specific binding will be absent from the western blot or immunostaining performed with the neutralized antibody.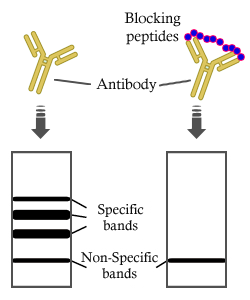 Format :
Synthetic peptide was lyophilized with 100% acetonitrile and is supplied as a powder. Reconstitute with 0.1 ml DI water for a final concentration of 1 mg/ml.The purity is >90%,tested by HPLC and MS.Storage Maintain refrigerated at 2-8°C for up to 6 months. For long term storage store at -20°C.
Precautions :
This product is for research use only. Not for use in diagnostic or therapeutic procedures.