Purification:
The antibody is from purified rabbit serum by affinity purification via sequential chromatography on phospho- and non-phospho-peptide affinity columns.
Specificity:
Phospho-mTOR (Ser2448) Antibody detects endogenous levels of mTOR only when phosphorylated at Serine 2448.
Immunogen:
A synthesized peptide derived from human mTOR around the phosphorylation site of Serine 2448.
Uniprot:
Gene id:
Show more↓
Research Fields:
· Cellular Processes > Transport and catabolism > Autophagy - other.(View pathway)
· Cellular Processes > Transport and catabolism > Autophagy - animal.(View pathway)
· Cellular Processes > Cell growth and death > Cellular senescence.(View pathway)
· Environmental Information Processing > Signal transduction > ErbB signaling pathway.(View pathway)
· Environmental Information Processing > Signal transduction > mTOR signaling pathway.(View pathway)
· Environmental Information Processing > Signal transduction > Apelin signaling pathway.(View pathway)
· Environmental Information Processing > Signal transduction > HIF-1 signaling pathway.(View pathway)
· Environmental Information Processing > Signal transduction > AMPK signaling pathway.(View pathway)
· Environmental Information Processing > Signal transduction > Phospholipase D signaling pathway.(View pathway)
· Environmental Information Processing > Signal transduction > Jak-STAT signaling pathway.(View pathway)

Description:
an atypical kinase belonging to the PIKK family of kinases. Controls cell growth through protein synthesis regulation. Downstream of PI3K/Akt pathway and required for cell survival. Acts as the target for the cell-cycle arrest and immunosuppressive effects of the FKBP12-rapamycin complex.
Function:
Serine/threonine protein kinase which is a central regulator of cellular metabolism, growth and survival in response to hormones, growth factors, nutrients, energy and stress signals. MTOR directly or indirectly regulates the phosphorylation of at least 800 proteins. Functions as part of 2 structurally and functionally distinct signaling complexes mTORC1 and mTORC2 (mTOR complex 1 and 2). Activated mTORC1 up-regulates protein synthesis by phosphorylating key regulators of mRNA translation and ribosome synthesis. This includes phosphorylation of EIF4EBP1 and release of its inhibition toward the elongation initiation factor 4E (eiF4E). Moreover, phosphorylates and activates RPS6KB1 and RPS6KB2 that promote protein synthesis by modulating the activity of their downstream targets including ribosomal protein S6, eukaryotic translation initiation factor EIF4B, and the inhibitor of translation initiation PDCD4. Stimulates the pyrimidine biosynthesis pathway, both by acute regulation through RPS6KB1-mediated phosphorylation of the biosynthetic enzyme CAD, and delayed regulation, through transcriptional enhancement of the pentose phosphate pathway which produces 5-phosphoribosyl-1-pyrophosphate (PRPP), an allosteric activator of CAD at a later step in synthesis, this function is dependent on the mTORC1 complex. Regulates ribosome synthesis by activating RNA polymerase III-dependent transcription through phosphorylation and inhibition of MAF1 an RNA polymerase III-repressor. In parallel to protein synthesis, also regulates lipid synthesis through SREBF1/SREBP1 and LPIN1. To maintain energy homeostasis mTORC1 may also regulate mitochondrial biogenesis through regulation of PPARGC1A. mTORC1 also negatively regulates autophagy through phosphorylation of ULK1. Under nutrient sufficiency, phosphorylates ULK1 at 'Ser-758', disrupting the interaction with AMPK and preventing activation of ULK1. Also prevents autophagy through phosphorylation of the autophagy inhibitor DAP. mTORC1 exerts a feedback control on upstream growth factor signaling that includes phosphorylation and activation of GRB10 a INSR-dependent signaling suppressor. Among other potential targets mTORC1 may phosphorylate CLIP1 and regulate microtubules. As part of the mTORC2 complex MTOR may regulate other cellular processes including survival and organization of the cytoskeleton. Plays a critical role in the phosphorylation at 'Ser-473' of AKT1, a pro-survival effector of phosphoinositide 3-kinase, facilitating its activation by PDK1. mTORC2 may regulate the actin cytoskeleton, through phosphorylation of PRKCA, PXN and activation of the Rho-type guanine nucleotide exchange factors RHOA and RAC1A or RAC1B. mTORC2 also regulates the phosphorylation of SGK1 at 'Ser-422' (PubMed:12087098, PubMed:12150925, PubMed:12150926, PubMed:12231510, PubMed:12718876, PubMed:14651849, PubMed:15268862, PubMed:15467718, PubMed:15545625, PubMed:15718470, PubMed:18497260, PubMed:18762023, PubMed:18925875, PubMed:20516213, PubMed:20537536, PubMed:21659604, PubMed:23429703, PubMed:23429704, PubMed:25799227, PubMed:26018084). Regulates osteoclastogenesis by adjusting the expression of CEBPB isoforms (By similarity).
Subcellular Location:
Endoplasmic reticulum membrane. Golgi apparatus membrane. Mitochondrion outer membrane. Lysosome. Cytoplasm. Nucleus > PML body. Shuttles between cytoplasm and nucleus. Accumulates in the nucleus in response to hypoxia (By similarity). Targeting to lysosomes depends on amino acid availability and RRAGA and RRAGB.
Post-translational Modifications:
Autophosphorylates when part of mTORC1 or mTORC2. Phosphorylation at Ser-1261, Ser-2159 and Thr-2164 promotes autophosphorylation. Phosphorylation in the kinase domain modulates the interactions of MTOR with RPTOR and PRAS40 and leads to increased intrinsic mTORC1 kinase activity. Phosphorylation at Thr-2173 in the ATP-binding region by AKT1 strongly reduces kinase activity.
Tissue Specificity:
Expressed in numerous tissues, with highest levels in testis.
Subunit Structure:
Part of the mammalian target of rapamycin complex 1 (mTORC1) which contains MTOR, MLST8, RPTOR, AKT1S1/PRAS40 and DEPTOR. The mTORC1 complex is a 1 Md obligate dimer of two stoichiometric heterotetramers with overall dimensions of 290 A x 210 A x 135 A. It has a rhomboid shape and a central cavity, the dimeric interfaces are formed by interlocking interactions between the two MTOR and the two RPTOR subunits. The MLST8 subunit forms distal foot-like protuberances, and contacts only one MTOR within the complex, while the small PRAS40 localizes to the midsection of the central core, in close proximity to RPTOR. Part of the mammalian target of rapamycin complex 2 (mTORC2) which contains MTOR, MLST8, PRR5, RICTOR, MAPKAP1 and DEPTOR. Interacts with PLPP7 and PML. Interacts with PRR5 and RICTOR; the interaction is direct within the mTORC2 complex. Interacts with WAC; WAC positively regulates MTOR activity by promoting the assembly of the TTT complex composed of TELO2, TTI1 and TTI2 and the RUVBL complex composed of RUVBL1 and RUVBL2 into the TTT-RUVBL complex which leads to the dimerization of the mTORC1 complex and its subsequent activation (PubMed:26812014). Interacts with UBQLN1. Interacts with TTI1 and TELO2. Interacts with CLIP1; phosphorylates and regulates CLIP1. Interacts with NBN. Interacts with HTR6 (PubMed:23027611). Interacts with BRAT1.
Similarity:
The kinase domain (PI3K/PI4K) is intrinsically active but has a highly restricted catalytic center.The FAT domain forms three discontinuous subdomains of alpha-helical TPR repeats plus a single subdomain of HEAT repeats. The four domains pack sequentially to form a C-shaped a-solenoid that clamps onto the kinase domain (PubMed:23636326).Belongs to the PI3/PI4-kinase family.
Protein BLAST With
Sequence:
        10         20         30         40         50
MLGTGPAAAT TAATTSSNVS VLQQFASGLK SRNEETRAKA AKELQHYVTM 
        60         70         80         90        100
ELREMSQEES TRFYDQLNHH IFELVSSSDA NERKGGILAI ASLIGVEGGN 
       110        120        130        140        150
ATRIGRFANY LRNLLPSNDP VVMEMASKAI GRLAMAGDTF TAEYVEFEVK 
       160        170        180        190        200
RALEWLGADR NEGRRHAAVL VLRELAISVP TFFFQQVQPF FDNIFVAVWD 
       210        220        230        240        250
PKQAIREGAV AALRACLILT TQREPKEMQK PQWYRHTFEE AEKGFDETLA 
       260        270        280        290        300
KEKGMNRDDR IHGALLILNE LVRISSMEGE RLREEMEEIT QQQLVHDKYC 
       310        320        330        340        350
KDLMGFGTKP RHITPFTSFQ AVQPQQSNAL VGLLGYSSHQ GLMGFGTSPS 
       360        370        380        390        400
PAKSTLVESR CCRDLMEEKF DQVCQWVLKC RNSKNSLIQM TILNLLPRLA 
       410        420        430        440        450
AFRPSAFTDT QYLQDTMNHV LSCVKKEKER TAAFQALGLL SVAVRSEFKV 
       460        470        480        490        500
YLPRVLDIIR AALPPKDFAH KRQKAMQVDA TVFTCISMLA RAMGPGIQQD 
       510        520        530        540        550
IKELLEPMLA VGLSPALTAV LYDLSRQIPQ LKKDIQDGLL KMLSLVLMHK 
       560        570        580        590        600
PLRHPGMPKG LAHQLASPGL TTLPEASDVG SITLALRTLG SFEFEGHSLT 
       610        620        630        640        650
QFVRHCADHF LNSEHKEIRM EAARTCSRLL TPSIHLISGH AHVVSQTAVQ 
       660        670        680        690        700
VVADVLSKLL VVGITDPDPD IRYCVLASLD ERFDAHLAQA ENLQALFVAL 
       710        720        730        740        750
NDQVFEIREL AICTVGRLSS MNPAFVMPFL RKMLIQILTE LEHSGIGRIK 
       760        770        780        790        800
EQSARMLGHL VSNAPRLIRP YMEPILKALI LKLKDPDPDP NPGVINNVLA 
       810        820        830        840        850
TIGELAQVSG LEMRKWVDEL FIIIMDMLQD SSLLAKRQVA LWTLGQLVAS 
       860        870        880        890        900
TGYVVEPYRK YPTLLEVLLN FLKTEQNQGT RREAIRVLGL LGALDPYKHK 
       910        920        930        940        950
VNIGMIDQSR DASAVSLSES KSSQDSSDYS TSEMLVNMGN LPLDEFYPAV 
       960        970        980        990       1000
SMVALMRIFR DQSLSHHHTM VVQAITFIFK SLGLKCVQFL PQVMPTFLNV 
      1010       1020       1030       1040       1050
IRVCDGAIRE FLFQQLGMLV SFVKSHIRPY MDEIVTLMRE FWVMNTSIQS 
      1060       1070       1080       1090       1100
TIILLIEQIV VALGGEFKLY LPQLIPHMLR VFMHDNSPGR IVSIKLLAAI 
      1110       1120       1130       1140       1150
QLFGANLDDY LHLLLPPIVK LFDAPEAPLP SRKAALETVD RLTESLDFTD 
      1160       1170       1180       1190       1200
YASRIIHPIV RTLDQSPELR STAMDTLSSL VFQLGKKYQI FIPMVNKVLV 
      1210       1220       1230       1240       1250
RHRINHQRYD VLICRIVKGY TLADEEEDPL IYQHRMLRSG QGDALASGPV 
      1260       1270       1280       1290       1300
ETGPMKKLHV STINLQKAWG AARRVSKDDW LEWLRRLSLE LLKDSSSPSL 
      1310       1320       1330       1340       1350
RSCWALAQAY NPMARDLFNA AFVSCWSELN EDQQDELIRS IELALTSQDI 
      1360       1370       1380       1390       1400
AEVTQTLLNL AEFMEHSDKG PLPLRDDNGI VLLGERAAKC RAYAKALHYK 
      1410       1420       1430       1440       1450
ELEFQKGPTP AILESLISIN NKLQQPEAAA GVLEYAMKHF GELEIQATWY 
      1460       1470       1480       1490       1500
EKLHEWEDAL VAYDKKMDTN KDDPELMLGR MRCLEALGEW GQLHQQCCEK 
      1510       1520       1530       1540       1550
WTLVNDETQA KMARMAAAAA WGLGQWDSME EYTCMIPRDT HDGAFYRAVL 
      1560       1570       1580       1590       1600
ALHQDLFSLA QQCIDKARDL LDAELTAMAG ESYSRAYGAM VSCHMLSELE 
      1610       1620       1630       1640       1650
EVIQYKLVPE RREIIRQIWW ERLQGCQRIV EDWQKILMVR SLVVSPHEDM 
      1660       1670       1680       1690       1700
RTWLKYASLC GKSGRLALAH KTLVLLLGVD PSRQLDHPLP TVHPQVTYAY 
      1710       1720       1730       1740       1750
MKNMWKSARK IDAFQHMQHF VQTMQQQAQH AIATEDQQHK QELHKLMARC 
      1760       1770       1780       1790       1800
FLKLGEWQLN LQGINESTIP KVLQYYSAAT EHDRSWYKAW HAWAVMNFEA 
      1810       1820       1830       1840       1850
VLHYKHQNQA RDEKKKLRHA SGANITNATT AATTAATATT TASTEGSNSE 
      1860       1870       1880       1890       1900
SEAESTENSP TPSPLQKKVT EDLSKTLLMY TVPAVQGFFR SISLSRGNNL 
      1910       1920       1930       1940       1950
QDTLRVLTLW FDYGHWPDVN EALVEGVKAI QIDTWLQVIP QLIARIDTPR 
      1960       1970       1980       1990       2000
PLVGRLIHQL LTDIGRYHPQ ALIYPLTVAS KSTTTARHNA ANKILKNMCE 
      2010       2020       2030       2040       2050
HSNTLVQQAM MVSEELIRVA ILWHEMWHEG LEEASRLYFG ERNVKGMFEV 
      2060       2070       2080       2090       2100
LEPLHAMMER GPQTLKETSF NQAYGRDLME AQEWCRKYMK SGNVKDLTQA 
      2110       2120       2130       2140       2150
WDLYYHVFRR ISKQLPQLTS LELQYVSPKL LMCRDLELAV PGTYDPNQPI 
      2160       2170       2180       2190       2200
IRIQSIAPSL QVITSKQRPR KLTLMGSNGH EFVFLLKGHE DLRQDERVMQ 
      2210       2220       2230       2240       2250
LFGLVNTLLA NDPTSLRKNL SIQRYAVIPL STNSGLIGWV PHCDTLHALI 
      2260       2270       2280       2290       2300
RDYREKKKIL LNIEHRIMLR MAPDYDHLTL MQKVEVFEHA VNNTAGDDLA 
      2310       2320       2330       2340       2350
KLLWLKSPSS EVWFDRRTNY TRSLAVMSMV GYILGLGDRH PSNLMLDRLS 
      2360       2370       2380       2390       2400
GKILHIDFGD CFEVAMTREK FPEKIPFRLT RMLTNAMEVT GLDGNYRITC 
      2410       2420       2430       2440       2450
HTVMEVLREH KDSVMAVLEA FVYDPLLNWR LMDTNTKGNK RSRTRTDSYS 
      2460       2470       2480       2490       2500
AGQSVEILDG VELGEPAHKK TGTTVPESIH SFIGDGLVKP EALNKKAIQI 
      2510       2520       2530       2540 
INRVRDKLTG RDFSHDDTLD VPTQVELLIK QATSHENLCQ CYIGWCPFW  

Storage Condition and Buffer:
Rabbit IgG in phosphate buffered saline , pH 7.4, 150mM NaCl, 0.02% sodium azide and 50% glycerol.Store at -20 °C.Stable for 12 months from date of receipt.
IMPORTANT: For western blots, incubate membrane with diluted antibody in 5% w/v milk , 1X TBS, 0.1% Tween®20
at 4°C with gentle shaking, overnight.
Catalog Number :
AF3308-BP
Price/Size :
$200/1mg.
Tips: For phospho antibody, we provide phospho peptide(0.5mg) and non-phospho peptide(0.5mg).
Function :
Blocking peptides are peptides that bind specifically to the target antibody and block antibody binding. These peptide usually contains the epitope recognized by the antibody. Antibodies bound to the blocking peptide no longer bind to the epitope on the target protein. This mechanism is useful when non-specific binding is an issue, for example, in Western blotting (immunoblot) and immunohistochemistry (IHC). By comparing the staining from the blocked antibody versus the antibody alone, one can see which staining is specific; Specific binding will be absent from the western blot or immunostaining performed with the neutralized antibody.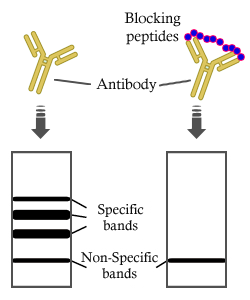 Format :
Synthetic peptide was lyophilized with 100% acetonitrile and is supplied as a powder. Reconstitute with 0.1 ml DI water for a final concentration of 1 mg/ml.The purity is >90%,tested by HPLC and MS.Storage Maintain refrigerated at 2-8°C for up to 6 months. For long term storage store at -20°C.
Precautions :
This product is for research use only. Not for use in diagnostic or therapeutic procedures.