Expand↓
Alternative Names:
70 kDa ribosomal protein S6 kinase 1; KS6B1_HUMAN; p70 alpha; P70 beta 1; p70 ribosomal S6 kinase alpha; p70 ribosomal S6 kinase beta 1; p70 S6 kinase alpha; P70 S6 Kinase; p70 S6 kinase, alpha 1; p70 S6 kinase, alpha 2; p70 S6K; p70 S6K-alpha; p70 S6KA; p70(S6K) alpha; p70(S6K)-alpha; p70-alpha; p70-S6K 1; p70-S6K; P70S6K; P70S6K1; p70S6Kb; PS6K; Ribosomal protein S6 kinase 70kDa polypeptide 1; Ribosomal protein S6 kinase beta 1; Ribosomal protein S6 kinase beta-1; Ribosomal protein S6 kinase I; RPS6KB1; S6K; S6K-beta-1; S6K1; Serine/threonine kinase 14 alpha; Serine/threonine-protein kinase 14A; STK14A;
Applications:
WB 1:500-1:2000 IHC 1:50-1:200 IF/ICC 1:100-1:500, ELISA(peptide) 1:20000-1:40000
Source:
Rabbit
Reactivity:
Human,Mouse,Rat,Pig
Clonality:
Polyclonal
Concentration:
1mg/ml
Molecular Weight:
Observed: 70kDa. Predicted: 60kDa.
Purification:
The antibody is from purified rabbit serum by affinity purification via sequential chromatography on phospho- and non-phospho-peptide affinity columns.
Specificity:
Phospho-p70 S6 Kinase (Thr389/412) Antibody detects endogenous levels of p70 S6 Kinase only when phosphorylated at Threonine 389/412.
Immunogen:
A synthesized peptide derived from human p70 S6 Kinase around the phosphorylation site of Threonine 389/412.
Uniprot:
Gene id:
Show more↓
Research Fields:
· Cellular Processes > Transport and catabolism > Autophagy - animal.(View pathway)
· Environmental Information Processing > Signal transduction > ErbB signaling pathway.(View pathway)
· Environmental Information Processing > Signal transduction > mTOR signaling pathway.(View pathway)
· Environmental Information Processing > Signal transduction > Apelin signaling pathway.(View pathway)
· Environmental Information Processing > Signal transduction > TGF-beta signaling pathway.(View pathway)
· Environmental Information Processing > Signal transduction > HIF-1 signaling pathway.(View pathway)
· Environmental Information Processing > Signal transduction > AMPK signaling pathway.(View pathway)
· Environmental Information Processing > Signal transduction > PI3K-Akt signaling pathway.(View pathway)
· Human Diseases > Cancers: Specific types > Pancreatic cancer.(View pathway)
· Human Diseases > Cancers: Overview > Pathways in cancer.(View pathway)

Description:
This gene encodes a member of the RSK (ribosomal S6 kinase) family of serine/threonine kinases. This kinase contains 2 non-identical kinase catalytic domains and phosphorylates several residues of the S6 ribosomal protein.
Function:
Serine/threonine-protein kinase that acts downstream of mTOR signaling in response to growth factors and nutrients to promote cell proliferation, cell growth and cell cycle progression. Regulates protein synthesis through phosphorylation of EIF4B, RPS6 and EEF2K, and contributes to cell survival by repressing the pro-apoptotic function of BAD. Under conditions of nutrient depletion, the inactive form associates with the EIF3 translation initiation complex. Upon mitogenic stimulation, phosphorylation by the mammalian target of rapamycin complex 1 (mTORC1) leads to dissociation from the EIF3 complex and activation. The active form then phosphorylates and activates several substrates in the pre-initiation complex, including the EIF2B complex and the cap-binding complex component EIF4B. Also controls translation initiation by phosphorylating a negative regulator of EIF4A, PDCD4, targeting it for ubiquitination and subsequent proteolysis. Promotes initiation of the pioneer round of protein synthesis by phosphorylating POLDIP3/SKAR. In response to IGF1, activates translation elongation by phosphorylating EEF2 kinase (EEF2K), which leads to its inhibition and thus activation of EEF2. Also plays a role in feedback regulation of mTORC2 by mTORC1 by phosphorylating RICTOR, resulting in the inhibition of mTORC2 and AKT1 signaling. Mediates cell survival by phosphorylating the pro-apoptotic protein BAD and suppressing its pro-apoptotic function. Phosphorylates mitochondrial URI1 leading to dissociation of a URI1-PPP1CC complex. The free mitochondrial PPP1CC can then dephosphorylate RPS6KB1 at Thr-412, which is proposed to be a negative feedback mechanism for the RPS6KB1 anti-apoptotic function. Mediates TNF-alpha-induced insulin resistance by phosphorylating IRS1 at multiple serine residues, resulting in accelerated degradation of IRS1. In cells lacking functional TSC1-2 complex, constitutively phosphorylates and inhibits GSK3B. May be involved in cytoskeletal rearrangement through binding to neurabin. Phosphorylates and activates the pyrimidine biosynthesis enzyme CAD, downstream of MTOR (PubMed:11500364, PubMed:12801526, PubMed:14673156, PubMed:15071500, PubMed:15341740, PubMed:16286006, PubMed:17052453, PubMed:17053147, PubMed:17936702, PubMed:18952604, PubMed:19085255, PubMed:19720745, PubMed:19935711, PubMed:19995915, PubMed:23429703). Following activation by mTORC1, phosphorylates EPRS and thereby plays a key role in fatty acid uptake by adipocytes and also most probably in interferon-gamma-induced translation inhibition (PubMed:28178239).
Subcellular Location:
Cytoplasm; Nucleus. Cytoplasm and Cell junction > synapse > synaptosome. Mitochondrion outer membrane.
Post-translational Modifications:
Phosphorylation at Thr-412 is regulated by mTORC1. The phosphorylation at this site is maintained by an agonist-dependent autophosphorylation mechanism (By similarity). Activated by phosphorylation at Thr-252 by PDPK1. Dephosphorylation by PPP1CC at Thr-412 in mitochondrion.
Tissue Specificity:
Widely expressed.
Subunit Structure:
Interacts with PPP1R9A/neurabin-1 (By similarity). Interacts with RPTOR (PubMed:12150926). Interacts with IRS1 (PubMed:18952604). Interacts with EIF3B and EIF3C (PubMed:16286006). Interacts with TRAF4 (PubMed:12801526). Interacts with POLDIP3 (PubMed:15341740). Interacts (via N-terminus) with IER5 (PubMed:26496226).
Similarity:
The autoinhibitory domain is believed to block phosphorylation within the AGC-kinase C-terminal domain and the activation loop.The TOS (TOR signaling) motif is essential for activation by mTORC1.Belongs to the protein kinase superfamily. AGC Ser/Thr protein kinase family. S6 kinase subfamily.
Protein BLAST With
Sequence:
        10         20         30         40         50
MRRRRRRDGF YPAPDFRDRE AEDMAGVFDI DLDQPEDAGS EDELEEGGQL 
        60         70         80         90        100
NESMDHGGVG PYELGMEHCE KFEISETSVN RGPEKIRPEC FELLRVLGKG 
       110        120        130        140        150
GYGKVFQVRK VTGANTGKIF AMKVLKKAMI VRNAKDTAHT KAERNILEEV 
       160        170        180        190        200
KHPFIVDLIY AFQTGGKLYL ILEYLSGGEL FMQLEREGIF MEDTACFYLA 
       210        220        230        240        250
EISMALGHLH QKGIIYRDLK PENIMLNHQG HVKLTDFGLC KESIHDGTVT 
       260        270        280        290        300
HTFCGTIEYM APEILMRSGH NRAVDWWSLG ALMYDMLTGA PPFTGENRKK 
       310        320        330        340        350
TIDKILKCKL NLPPYLTQEA RDLLKKLLKR NAASRLGAGP GDAGEVQAHP 
       360        370        380        390        400
FFRHINWEEL LARKVEPPFK PLLQSEEDVS QFDSKFTRQT PVDSPDDSTL 
       410        420        430        440        450
SESANQVFLG FTYVAPSVLE SVKEKFSFEP KIRSPRRFIG SPRTPVSPVK 
       460        470        480        490        500
FSPGDFWGRG ASASTANPQT PVEYPMETSG IEQMDVTMSG EASAPLPIRQ 
       510        520 
PNSGPYKKQA FPMISKRPEH LRMNL                            

Storage Condition and Buffer:
Rabbit IgG in phosphate buffered saline , pH 7.4, 150mM NaCl, 0.02% sodium azide and 50% glycerol.Store at -20 °C.Stable for 12 months from date of receipt.
IMPORTANT: For western blots, incubate membrane with diluted antibody in 5% w/v milk , 1X TBS, 0.1% Tween®20
at 4°C with gentle shaking, overnight.
Catalog Number :
AF3228-BP
Price/Size :
$200/1mg.
Tips: For phospho antibody, we provide phospho peptide(0.5mg) and non-phospho peptide(0.5mg).
Function :
Blocking peptides are peptides that bind specifically to the target antibody and block antibody binding. These peptide usually contains the epitope recognized by the antibody. Antibodies bound to the blocking peptide no longer bind to the epitope on the target protein. This mechanism is useful when non-specific binding is an issue, for example, in Western blotting (immunoblot) and immunohistochemistry (IHC). By comparing the staining from the blocked antibody versus the antibody alone, one can see which staining is specific; Specific binding will be absent from the western blot or immunostaining performed with the neutralized antibody.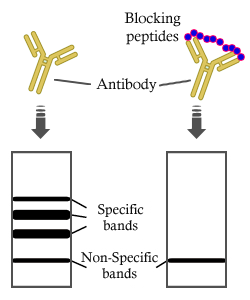 Format :
Synthetic peptide was lyophilized with 100% acetonitrile and is supplied as a powder. Reconstitute with 0.1 ml DI water for a final concentration of 1 mg/ml.The purity is >90%,tested by HPLC and MS.Storage Maintain refrigerated at 2-8°C for up to 6 months. For long term storage store at -20°C.
Precautions :
This product is for research use only. Not for use in diagnostic or therapeutic procedures.